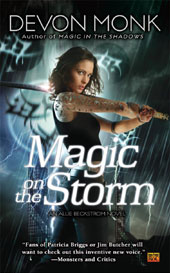 Photo credit:
Devon Monk's website
Since the last book in Devon Monk's Allie Beckstrom series came out this month, I've been rereading the rest of the book before diving into that one. I love this series. The world she built, especially the rules for magic, is so wonderfully complex and knitted together perfectly. I highly recommend it.
WARNING: The synopsis may contain some spoilers for the earlier books in the Allie Beckstrom series.
Allison Beckstrom is committed to her work tracing illegal spells. Now, there's an apocalyptic storm bearing down on Portland, and when it hits, all the magic in the area will turn unstable and destructive. To stop it from taking out the entire city, Allie and her lover, the mysterious Zayvion Jones, must work with the Authority-the enigmatic arbiters of all things magic-and take a stand against a magical wildstorm that will obliterate all in its path...
The rules for Teaser Tuesday are:
Grab your current read
Open to a random page
Share two (2) "teaser" sentences from somewhere on that page
BE CAREFUL NOT TO INCLUDE SPOILERS! (make sure that what you share doesn't give too much away! You don't want to ruin the book for others!)
Share the title & author, too, so that other TT participants can add the book to their TBR Lists if they like your teasers!
Then hit up Should Be Reading to add your link.
And the teaser:
Instead of attacking, he stood there, breathing hard, his hands clenched into fists in front of him, head tipped down so that I could not see his eyes.

But it was the smell of sweet cherries that told me exactly what was going on. Blood magic.