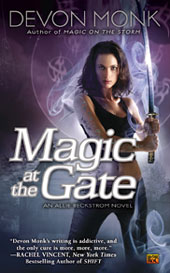 Photo credit:
Devon Monk's website
Still working on the Allie Beckstrom series. NaNo is definitely cutting into my reading time this month.
WARNING: The synopsis may contain some spoilers for the earlier books in the Allie Beckstrom series.
Allie Beckstrom's lover, Zayvion Jones, is a Guardian of the Gate, imbued with both light and dark magic and responsible for ensuring that those energies don't mix. But Zayvion lies in a coma, his soul trapped in death's realm. And when Allie discovers that the only way to save Zayvion is to sacrifice her very own magical essence, she makes a decision that may have grave consequences for the entire world.
The rules for Teaser Tuesday are:
Grab your current read
Open to a random page
Share two (2) "teaser" sentences from somewhere on that page
BE CAREFUL NOT TO INCLUDE SPOILERS! (make sure that what you share doesn't give too much away! You don't want to ruin the book for others!)
Share the title & author, too, so that other TT participants can add the book to their TBR Lists if they like your teasers!
Then hit up Should Be Reading to add your link.
And the teaser:
The first in line was Truance, bearing a curved sword that looked like a scimitar.

We hit her with everything we had.