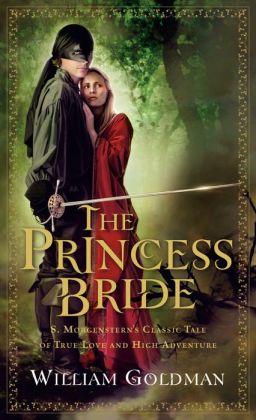 Photo credit:
Barnes & Noble
I've been meaning to read The Princess Bride ever since I saw the movie, and I finally realized the library had ebook copies to check out. Score! So far, it's every bit as quirky and fun as the movie.
Anyone who lived through the 1980s may find it impossible—inconceivable, even—to equate The Princess Bride with anything other than the sweet, celluloid romance of Westley and Buttercup, but the film is only a fraction of the ingenious storytelling you'll find in these pages. Rich in character and satire, the novel is set in 1941 and framed cleverly as an "abridged" retelling of a centuries-old tale set in the fabled country of Florin that's home to "Beasts of all natures and descriptions. Pain. Death. Brave men. Coward men. Strongest men. Chases. Escapes. Lies. Truths. Passions."
The rules for Teaser Tuesday are:
Grab your current read
Open to a random page
Share two (2) "teaser" sentences from somewhere on that page
BE CAREFUL NOT TO INCLUDE SPOILERS! (make sure that what you share doesn't give too much away! You don't want to ruin the book for others!)
Share the title & author, too, so that other TT participants can add the book to their TBR Lists if they like your teasers!
Then hit up Should Be Reading to add your link.
And the teaser:
The horse's name was "Horse" (Buttercup was never long on imagination) and it came when she called it, went where she steered it, did what she told it. The farm boy did what she told him too. Actually, he was more a young man now, but he had been a farm boy when, orphaned, he had come to work for her father, and Buttercup referred to him that way still.